Social Links Widget
Click here to edit the Social Media Links settings. This text will not be visible on the front end.
Are you clamoring for extra rooms or a more functional floorplan in your house? Maybe it's time to make a move. If you'll be able to work remotely for the long-term or your overall needs have simply changed, it's a great time to sell your house and move up. Why? With mortgage rates in their favor and higher-priced home sales powering more moves across the country, sellers in today's market are finding the space they need (and have always dreamed of) by purchasing a home in the upper end of the housing market.
With so few homes available for sale and high demand from today's homebuyers, sellers are profiting in major ways this season. Bidding wars are gaining traction, driving up the sale price of more and more homes throughout the country. This means sellers are able to leverage extra cash from higher-priced sales while also taking advantage of today's low mortgage rates when they purchase their next home. It's the perfect scenario to move up into a true dream home. According to the April Luxury Market Report from the Institute for Luxury Home Marketing:
"The Institute's recent analysis of sales in 2020 for homes over 5,000 square feet support the continuing preference for larger homes. The analysis determined that there was a 17% increase in the number of 5,000+ sq ft homes sold when compared to the number of sales in 2019.

Luxury home prices continue to see record highs in the majority of affluent ex-urban communities, as the influence of being able to work from home is still driving buyers away from living in high density areas. Low interest rates also remain in play, allowing buyers to realize the affordability of owning a larger property, which further reinforces this trend."
Lawrence Yun, Chief Economist for the National Association of Realtors (NAR), also explains:
"The market is hot pretty much everywhere and across all price points . . . The only area where there is sufficient inventory is in $1 million-plus homes . . . ."
While this price range certainly doesn't fit every budget, if it's in your reach this summer, you may want to make your move sooner rather than later. Today, more homes are available in this segment of the market, but as the report mentions, more buyers are investing here too, so competition may heat up sooner rather than later.
Bottom Line
If you're planning to sell your current home to move into a larger one, let's connect today. We'll discuss your current situation and the opportunities in our local market.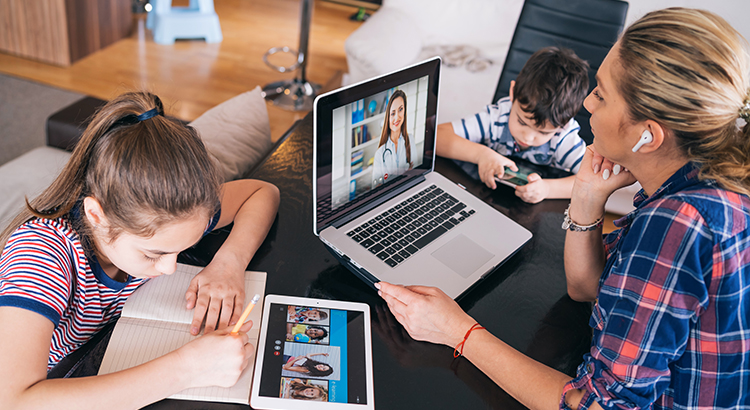 Today, Americans are moving for a variety of different reasons. The current health crisis has truly re-shaped our lifestyles and our needs. Spending extra time where we currently live is enabling many families to re-evaluate what homeownership means and what they find most important in a home.
According to Zillow:
"In 2020, homes went from the place people returned to after work, school, hitting the gym or vacationing, to the place where families do all of the above. For those who now spend the majority of their hours at home, there's a growing wish list of what they'd change about their homes, if possible." 
With a new perspective on homeownership, here are some of the top reasons people are reconsidering where they live and making moves this year.
1. Working from Home
Remote work is becoming the new norm in 2020, and it's continuing on longer than most initially expected. Many in the workforce today are discovering they don't need to live close to the office anymore, and they can get more for their money if they move a little further outside the city limits. Lawrence Yun, Chief Economist for the National Association of Realtors (NAR) notes:
"With the sizable shift in remote work, current homeowners are looking for larger homes and this will lead to a secondary level of demand even into 2021."
If you've tried to convert your guest room or your dining room into a home office with minimal success, it may be time to find a larger home. The reality is, your current house may not be optimally designed for this kind of space, making remote work and continued productivity very challenging.
2. Virtual Schooling
With school about to restart this fall, many districts are beginning the new academic year online. Education Week is tracking the reopening plans of schools across the country, and as of August 21, 21 of the 25 largest school districts are choosing remote learning as their back-to-school instructional model, affecting over 4.5 million students.
With a need for a dedicated learning space, it may be time to find a larger home to provide your children with the same kind of quiet room to focus on their schoolwork, just like you likely need for your office work.
3. A Home Gym
Staying healthy and active is a top priority for many Americans. With various levels of concern around the safety of returning to health clubs across the country, dreams of space for a home gym are growing stronger. The Home Builders Association of Greater New Orleans explains:
"For many in quarantine, a significant decrease in activity is more than a vanity issue – it's a mental health issue."
Having room to maintain a healthy lifestyle at home – mentally and physically – may prompt you to consider a new place to live that includes space for at-home workouts.
4. Outdoor Space
Especially for those living in an apartment or a small townhouse, this is a new priority for many as well. Zillow also notes the benefits of being able to use yard space throughout the year:
"People want more space in their next home, and one way to get it is by turning part of the backyard into a functional room, 'an outdoor space for play as well as entertaining or cooking.'"
You may, however, not have the extra square footage today to have these designated areas – indoor or out.
Moving May Be Your Best Option
If you're clamoring for extra space to accommodate your family's changing needs, making a move may be your best bet, especially while you can take advantage of today's low mortgage rates. Low rates are making homes more affordable than they have been in years. According to Black Knight:
"Buying power for those shopping for a home is up 10% year over year, with home buyers able to afford nearly $32,000 more home than they could have 1 year ago while keeping their monthly payment the same."

It's a great time to get more home for your money, just when you need the extra space.
Bottom Line
People are moving for a variety of different reasons today, and many families' needs have changed throughout the year. If you've been trying to decide if now is the time to buy a new home, let's connect to discuss your needs.
Windermere is focused on keeping our clients and our community safe and connected. We're all in this together. Since the early days of COVID-19, our philosophy has been "Go slow and do no harm." While real estate has been deemed an "essential" business, we have adopted guidelines that prioritize everyone's safety and wellness.
Like everything else in our world, real estate is not business as usual. While market statistics certainly aren't our focus at this time, we've opted to include our usual monthly report for those who may be interested. A few key points:
The monthly statistics are based on closed sales. Since closing generally takes 30 days, the statistics for March are mostly reflective of contracts signed in February, a time period largely untouched by COVID-19. The market is different today.
We expect that inventory and sales will decline in April and May as a result of the governor's Stay Home order.
Despite the effects of COVID-19, the market in March was hot through mid-month. It remains to be seen if that indicates the strong market will return once the Stay Home order is lifted, or if economic changes will soften demand.
Every Monday Windermere Chief Economist Matthew Gardner provides an update regarding the impact of COVID-19 on the US economy and housing market. You can get Matthew's latest update here.
Stay healthy and be safe. We'll get through this together.
EASTSIDE
KING COUNTY
SEATTLE
SNOHOMISH COUNTY
VIEW FULL SNOHOMISH COUNTY REPORT
---
This post originally appeared on GetTheWReport.com