Social Links Widget
Click here to edit the Social Media Links settings. This text will not be visible on the front end.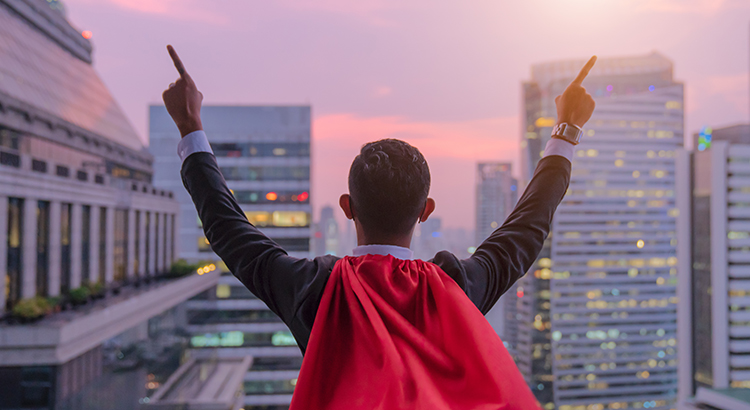 In the spring, many excited buyers get ready to enter the housing market. Others continue dreaming about the homes they'd like to buy. The truth is, many potential buyers continue to dream longer than they need to, simply because they're confused about the homebuying process. Thankfully, working with a trusted real estate professional can help ease those concerns and make the process to homeownership much easier to understand.
A recent survey conducted by Ipson and Freddie Mac reveals the confidence level of Gen Z and Millennial buyers regarding the homebuying process. The graph below shows the breakdown of the top results, clearly indicating there's a significant portion of younger buyers who are not yet confident with some of the steps in the homebuying process.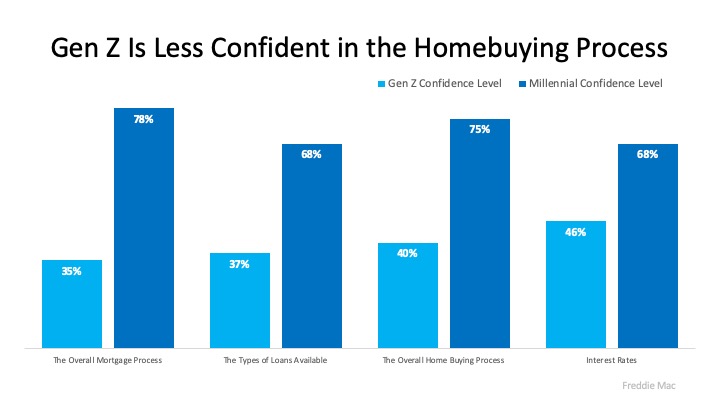 Between the homebuying process and the mortgage process, there are 230 possible steps in the transaction. With trusted professionals on your side, you certainly don't have to know them all to have a successful experience.
There are many reasons why these steps can change as you move through each one. Depending on your personal circumstances, the term or your mortgage, and the type of loan you use, the path you take may need to vary. That's why guidance and support from the experts is key.
In addition to the process itself, respondents in the survey definitely expressed concerns about understanding the types of loans available. Here are just a few of the basic loans to consider. Be sure to speak with your lender about the specifics of what will work best for you:
Interest rates also popped up as a common area of confusion among Gen Z and Millennial respondents in the survey. With today's rates hovering at near historic lows, it's a fantastic time for buyers to get more house for their money in the current market. Why? When mortgage rates are this low and wages are increasing as they are today, overall affordability increases, enabling home buyers to stretch their mortgage dollars further. It's just another area where a trusted professional can help simplify the process and give guidance along the way.
Bottom Line
There are many possible steps in a real estate transaction, but they don't have to be confusing. To understand your best course of action, let's get together to ensure you have a trusted advisor who will help you feel confident and informed at every turn.
You can send me an email at: davidhogan@windermere.com
A decrease in inventory coupled with an increase in sales activity led to fewer options for home shoppers in August. There is some good news for would-be buyers as mortgage rates have dropped to their lowest level in three years. Demand remains high but there simply aren't enough homes on the market. Brokers are hoping to see the traditional seasonal influx of new inventory as we move forward.
EASTSIDE
The median price of a single-family home on the Eastside was $935,000 in August, unchanged from a year ago and up slightly from $925,000 in July. New commercial and residential construction projects are in the works. Strong demand for downtown condos has prompted plans for yet another high-rise tower to break ground next year.
KING COUNTY
Home prices in King County were flat in August. The median price of a single-family home was $670,000, virtually unchanged from a year ago, and down just one percent from July. Southeast King County, which has some of the most reasonable housing values in the area, saw prices increase 9% over last year. Inventory remains very low. Year-over-year statistics show the volume of new listings dropped 18.5% in King County.
SEATTLE
Homes sales were up 12% in Seattle for August, putting additional pressure on already slim inventory. There is just over six weeks of available supply. There are signs that prices here are stabilizing as the median home price of $760,000 was unchanged from a year ago and up less than one percent from July. With its booming economy, demand here is expected to stay strong.
SNOHOMISH COUNTY
Buyers looking for more affordable options outside of King County pushed pending sales, mutually accepted offers, up nearly 16% over a year ago. Home prices have softened slightly. The median price of a single-family home in August was $490,000, down slightly from the median of $492,225 the same time last year.
VIEW FULL SNOHOMISH COUNTY REPORT
---
This post originally appeared on GetTheWReport.com

We are often asked, "Which is the better buy, a newer or older home?" Our answer: It all depends on your needs and personal preferences. We decided to put together a list of the six biggest differences between newer and older homes:
The neighborhood
Surprisingly, one of the biggest factors in choosing a new home isn't the property itself, but rather the surrounding neighborhood. While new homes occasionally spring up in established communities, most are built in new developments. The settings are quite different, each with their own unique benefits.
Older neighborhoods often feature tree-lined streets; larger property lots; a wide array of architectural styles; easy walking access to mass transportation, restaurants and local shops; and more established relationships among neighbors.
New developments are better known for wider streets and quiet cul-de-sacs; controlled development; fewer aboveground utilities; more parks; and often newer public facilities (schools, libraries, pools, etc.). There are typically more children in newer communities, as well.
Consider your daily work commute, too. While not always true, older neighborhoods tend to be closer to major employment centers, mass transportation and multiple car routes (neighborhood arterials, highways and freeways).
Design and layout
If you like Victorian, Craftsman or Cape Cod style homes, it used to be that you would have to buy an older home from the appropriate era. But with new-home builders now offering modern takes on those classic designs, that's no longer the case. There are even modern log homes available.
Have you given much thought to your floor plans? If you have your heart set on a family room, an entertainment kitchen, a home office and walk-in closets, you'll likely want to buy a newer home—or plan to do some heavy remodeling of an older home. Unless they've already been remodeled, most older homes feature more basic layouts.
If you have a specific home-décor style in mind, you'll want to take that into consideration, as well. Professional designers say it's best if the style and era of your furnishings match the style and era of your house. But if you are willing to adapt, then the options are wide open.
Materials and craftsmanship
Homes built before material and labor costs spiked in the late 1950s have a reputation for higher-grade lumber and old-world craftsmanship (hardwood floors, old-growth timber supports, ornate siding, artistic molding, etc.).
However, newer homes have the benefit of modern materials and more advanced building codes (copper or polyurethane plumbing, better insulation, double-pane windows, modern electrical wiring, earthquake/ windstorm supports, etc.).
Current condition
The condition of a home for sale is always a top consideration for any buyer. However, age is a factor here, as well. For example, if the exterior of a newer home needs repainting, it's a relatively easy task to determine the cost.  But if it's a home built before the 1970s, you have to also consider the fact that the underlying paint is most likely lead0based, and that the wood siding may have rot or other structural issues that need to be addressed before it can be recoated.
On the flip side, the mechanicals in older homes (lights, heating systems, sump pump, etc.) tend to be better built and last longer.
Outdoor space
One of the great things about older homes is that they usually come with mature tress and bushes already in place. Buyers of new homes may have to wait years for ornamental trees, fruit trees, roses, ferns, cacti and other long-term vegetation to fill in a yard, create shade, provide privacy, and develop into an inviting outdoor space. However, maybe you're one of the many homeowners who prefer the wide-open, low-maintenance benefits of a lightly planted yard.
Car considerations
Like it or not, most of us are extremely dependent on our cars for daily transportation. And here again, you'll find a big difference between newer and older homes. Newer homes almost always feature ample off-street parking: usually a two-care garage and a wide driveway. An older home, depending on just how old it is, may not offer a garage—and if it does, there's often only enough space for one car. For people who don't feel comfortable leaving their car on the street, this alone can be a determining factor.
Finalizing your decision
While the differences between older and newer homes are striking, there's certainly no right or wrong answer. It is a matter of personal taste, and what is available in your desired area. To quickly determine which direction your taste trends, use the information above to make a list of your most desired features, then categorize those according to the type of house in which they're most likely to be found. The results can often be telling.
If you have questions about newer versus older homes, contact your local Windermere Real Estate broker to learn more!
This post originally appeared on the Windermere.com Blog.