The COVID-19 pandemic has affected populations across the globe, but those who struggle with poverty and count on food programs to meet their basic day-to-day needs are in an especially uncertain place. While coping with increased demand and a bottlenecked pipeline of food supply, food banks are desperate for funds to continue to serve their communities. Because of this, Windermere decided to challenge its offices to raise $250,000, every dollar of which would be matched by the Windermere Foundation and donated to food banks in the areas where Windermere operates. We titled it the "Neighbors in Need" fundraising campaign.
Neighbors in Need kicked off on April 21, with the goal of raising $250,000 by May 5. As word continued to spread, online donations and contributions from both our agents and the public began to increase. Neighbors in Need was given a boost by Seattle Seahawks starting safety Quandre Diggs in a heartfelt message encouraging support. Over the final 24 hours, leading up to the May 5 deadline, support poured in from across the Windermere family as the final figure exceeded the initial goal of $500,000, landing at a total of $690,000.
Neighbors in Need exemplifies Windermere's deep commitment to supporting our local communities, which traces back to 1989 when the Windermere Foundation first started. Since then, we've proudly raised more than $41 million for low-income and homeless families throughout the Western U.S.
On behalf of the Windermere Foundation to all those who joined the effort: Thank you. We could not have made this large of an impact without your help. We are humbled to be able to do our part to help those who need it most during these uncertain times.
---
This post originally appeared on the Windermere.com Blog
Posted on May 20, 2020 at 2:01 am
David Hogan
Category:

Community News, Giving Back, Windermere Foundation
Tagged

charity, community, david hogan homes, giving back, in, need, neighbors, seahawks, windermere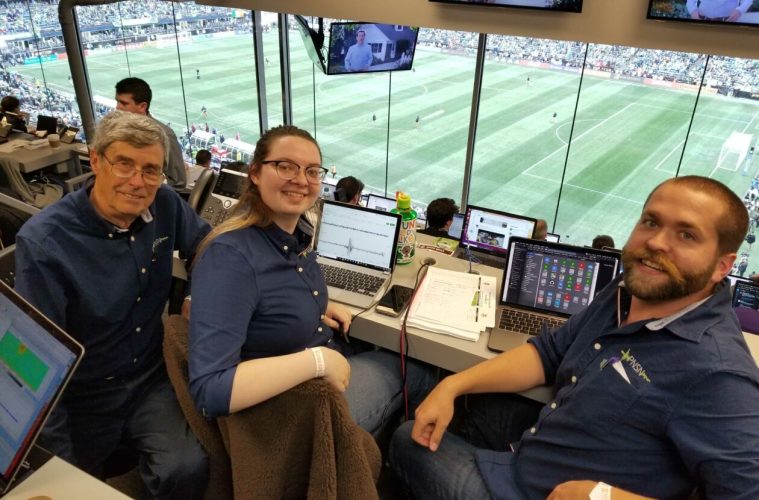 Originally published November 2019
Can Seattle Sounders fans match the Seahawks' "Beast Quakes" when it comes to making the earth move? Seismologists from the University of Washington and the Pacific Northwest Seismic Network conducted their first experiment to address that question.
Based on today's results from the Sounders' MLS Cup championship match against Toronto at CenturyLink Field, soccer fans are definitely holding their own.
"We're seeing great signals from the crowd," Elizabeth Urban, a UW student who's part of the PNSN team, told GeekWire at halftime.
Those signals were most obvious when Sounders fans started jumping together. "At first I thought it was a train going by, but it was very much lined up with when the fans were jumping," seismologist Steve Malone, an emeritus research professor at UW, wrote in a PNSN blog posting.
And that was with a scoreless first half. The needle moved even more wildly when the Sounders scored two quick goals in the second half.
"Both goals — particularly the second one — really, really showed up well. Very strongly, all the way from here to our station located several hundred yards away," Malone told GeekWire. "The second goal seemed to be louder … and lasted longer."
The tremor that accompanied Seattle's third goal was almost as strong.
Today's experiment was aimed at providing training in rapid instrument installation and urban seismology for PNSN's researchers, who play a leading role in monitoring seismic events in the Pacific Northwest. Those skills will be crucial for documenting significant earthquakes in the region — like the magnitude-6.8 Nisqually earthquake of 2001, or the magnitude-9 "Really Big One" that experts expect to see someday.
In the past, PNSN has turned momentous Seahawks football games into teachable moments, registering "Beast Quakes" (named after legendary Seahawks running back Marshawn "Beast Mode" Lynch) during dramatic plays. Now it's doing the same for the Sounders.
With the Sounders' permission, the research team hooked up one seismometer inside the stadium for today's big game, and another one not far outside.
"Fans simply yelling will be of no interest to us; however, their jumping up and down should generate vibrations in the stadium and even be transmitted through the ground to sites at some distance," Malone said. "The Sounder FC fans are particularly well known for their synchronized rhythmic jumping together, which should generate very strong seismic signals."
The seismologists' clearest win was that they were able to hook up their equipment and get the results online for the match. The results were posted in real time on PNSN's QuickShake website. (The KDK station registered the readings outside the stadium, while the SFC station was inside.) The biggest spikes came at 13:33:53, 13:42:50 and 13:57:07, when the Sounders scored.
"It has been challenging to try and keep up with what the fans were doing in the excitement of the game," Malone wrote in the game's final blog update. "It will take some additional analysis to understand all the different types of signals that we recorded and how strong due to what actions."
Oh, and by the way, the seismologists weren't the only winners today: The Sounders triumphed over Toronto, 3-1.
---
Windermere is in its fourth season of helping #TackleHomelessness with the Seattle Seahawks!
Each year, as part of that campaign, Windermere hosts a "We've Got You Covered" winter drive for a local non-profit. This year, we are collecting warm winter gear for our new non-profit partner, Mary's Place, an organization that provides safe, inclusive shelter and services to women, children and families on their journey out of homelessness.
We are asking for donations of NEW hats, scarves, gloves/mittens, and warm socks for all genders and sizes.
From October 14 through November 8, you can drop off donations at our participating Windermere Real Estate and Property Management offices in King and Snohomish Counties**. Once the drive is over, our friends at Gentle Giant Moving Company — our winter drive partner for the past three years — will once again generously donate their time and trucks to pick up the donations collected by our offices, to deliver to Mary's Place.
Since 1999, Mary's Place has helped hundreds of women and families move out of homelessness into more stable situations. Across eight emergency family shelters in King County, they keep struggling families together, inside, and safe when they have no place else to go. But shelter capacity is limited and there are still hundreds of families sleeping outside in cars and tents each night. Please help them stay warm during the cold winter months by dropping off your donations to our participating offices.
Feel free to contact me, or another local office for more information, or email justask@windermere.com.
If you aren't near a local office, I am happy to swing by and grab your donations between now and November 8th!
David Hogan
Bellevue
700 112th Ave NE #100,Bellevue, WA 98004
Office:(425) 455-5300
Direct:(425) 890-3318
davidhogan@windermere.com
**Windermere Winter Drive Drop-Off Locations
Property Management – Bellevue
Property Management – Seattle North
Seattle-Pike/Pine (1324 East Pike Street, Seattle, WA 98122)
This post originally appeared on the Windermere.com Blog
Posted on October 24, 2019 at 6:31 pm
David Hogan
Category:

Community News, Giving Back, Windermere Foundation
Tagged

charity, david hogan, gentle giant moving, gloves, hats, hogan homes, homeless, homelessness, marys place, mittens, real estate, seahawks, seattle, tacklehomelessness, warm clothes drive, we've got you covered, windermere